Personal Styling Course
Get a Fashion Stylist Certification with our Image Consultant Training and Personal Shopper Course – Also available Personal Image Workshops
Taking into account the increasing concern of society for their personal image, there is also an increase in the demand for someone to help in this direction, helping people to develop a personal style that fits in with each person, from their personality to their social position, whether through clothing or accessories. It's in this context that Swiss Fashion Academy decided to develop the Personal Stylist Course (Fashion Advisor), to give the opportunity to the enthusiasts of this market niche to transform their "hobby" into a career, and to become Personal Stylist Freelancer, or even just for their personal use.
Our fashion school not only distributes the classes in small groups for a better and personalized accompaniment along your way with us but also allows you to have the course taught in German, English, Portuguese and Spanish.
Due to the decision of the Federal Council on 16.02.22, there will no longer be a certification requirement or a mask requirement effective from 17.02.22.
Personal Stylist – Professional Profile:
The Fashion Consultant or Personal Stylist is the professional who acts with the objective of helping his/her client to dress well in the most diverse occasions, assisting him/her in shopping, indicating the types of cuts, colors and accessories that best fit him/her taking into account both physical and psychological aspects.
The Personal Stylist always follows the trends closely, from colors, fabrics, cuts and textures, and can also sometimes work for companies in the industry, clothing stores, or events with segments of the industry, such as collection launches. The Fashion Consultancy professional not only helps in the way of dressing his clients but also sometimes elaborates brand strategies. Also by having a Fashion Stylist certification, you can administrate Personal Image Workshops.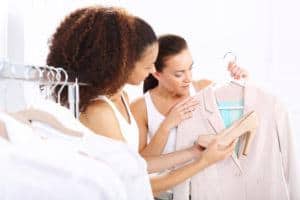 Objectives of the Personal Styling Course:
Learn to use non-verbal communication tools, through appearance and body language, in composing one's personal image;

Address theoretical and practical aspects, enabling  participants to define a wardrobe suited to their physical type and personal style;

Design notions (colour, texture, cut, etc.) for harmonious coordination of clothes;

Learn to analyse, coordinate and plan shopping for items of clothing based on specific needs, preferences and lifestyle;

Know how to select the clothes that will represent you properly and authentically.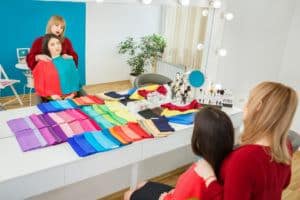 Personal Styling Course  – Theoretical content: 
What is personal image, it's social and psychological aspects;

Clothes: models, fabrics, patterns;

Personal style: definition and composition;

Wardrobe assessment and planning: coordination of articles, suitability for different occasions;

The importance of non-verbal communication, how to interpret people's behaviour and convey messages through gestures;

Notions of etiquette and how to behave in a professional and social environment ;
Personal Styling Course– Practical content: 
How to use colours, textures, silhouettes, fabrics to enhance your physical body type;

How to dress appropriately for each occasion;

How to dress accordingly with one's personality;

How to value ourselfs through clothes, while ensuring that your clothes help you to achieve your objectives;

How to establish a coordinated wardrobe;

How to dress economically;

How to choose accessories;

Body language and etiquette;

Notions of etiquette and how to behave in a professional and social environment.
Conclusion of the Imagen Consultant Training/Personal Shopper course and Image Workshops:
The final theoretical tests will be evaluated and scored by the instructor, taking into account the following criteria: Creativity, professional and technical knowledge. The successful students will receive a Fashion Stylist Certification from the Swiss Fashion Academy, which will guarantee them the competence to work in the area both as an employee and as a freelancer.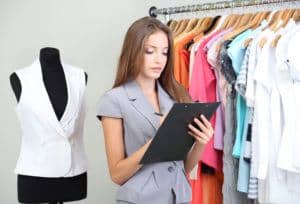 Personal Styling Course  – Dates and Prices:
Note: To perform the tasks given in class, the student must be equipped with a smartphone, tablet or notebook in order to download the required APP to perform the proposed exercises.
Benefit from a number of features by applying to the Personal Stylist Course:
You're one step away from changing your future:
Choose one of the following options:
The Swiss Fashion Academy team will be pleased to welcome you to our facilities for a visit or to clear up any doubts. We also provide you with the opportunity to try out one of the course classes of your choice, free of charge and without obligation, so that you can get to know our teaching method and our facilities. This applies both to those who register in person and through our website.
Whether you're looking for a Personal Shopper Course, an Image Consultant Training, or just Personal Image Workshops, Swiss Fashion Academy is the place for you!