Professional Fashion Illustrator Course
If you dream about becoming a Freelance Fashion Illustrator, to learn how to master programs like Adobe Photoshop or Adobe Illustrator, the Swiss Fashion Academy is the place for you!
Are you an enthusiast for drawing and fashion? A multimedia enthusiast? Or do you just want to improve your techniques so you can increase your offer in your business?  If so, this is the perfect Professional Fashion Illustrator course for you!
The 12-month Fashion Illustrator course also offers you the ease of being taught in several languages such as Portuguese, Spanish, English, and German. Another benefit that our school provides you is the fact that all our training courses are distributed in small groups, in order to ensure better monitoring and performance throughout your journey with us.
As of 10 January 2022, the following measures will apply based on the decision of the competent authority of the Canton of Zurich:

3G certificate and mask obligation for persons over the age of 16 for all courses offered by the Swiss Beauty Academy GmbH (incl. the courses on swiss-fasshion-academy.ch, swiss-business-academy.ch and swiss-nutrition-academy.ch) – valid only for canton Zurich.
For courses in Lausanne, 2G certificates and masks are compulsory for persons aged 16 and over until further notice (clarifications for 2G with the canton VD are still ongoing).
Target audience of the Fashion Illustrator Course:
The Fashion Illustrator course is intended for stylists, illustrators, designers, teachers, or simply fashion lovers who want to join the world of fashion through illustration.
Our course is great for illustrators and designers who want to expand and deepen their knowledge in the field of fashion illustration, through the mastery of hand drawing techniques and digital illustration in software like Adobe Photoshop or Adobe Illustrator. In addition, our training is also ideal for those who like to create and to develop their creativity and who want to pursue a career as a Freelancer Fashion Illustrator.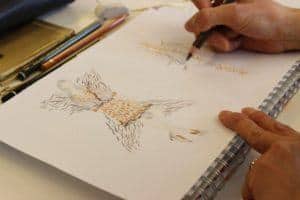 Profile of the professional Fashion Illustrator:
The profession of Fashion Illustrator covers a wide range of artistic work, where the main focus is on illustrations of fashion collections. The professional in this area can work as a Freelance Fashion Illustrator or alongside with Stylists. The Fashion Illustrator plays a very important role during the process of creating a collection. It is his competence to develop the perspicacity and harmony with the Stylist for whom he works, in order to express correctly on paper the idea that he intends to transmit through a certain combination of pieces or, in cases, only one piece. This is why this is a profession of high responsibility.
Besides that, the Freelancer Fashion Illustrator is someone who expresses with ease and in a very creative way his ideas and that besides the techniques in drawing on paper, also dominates the techniques in digital drawing, through the use of programs like Adobe Photoshop or Adobe Illustrator.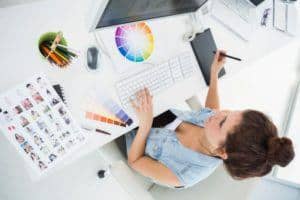 Goals of the Fashion Illustrator Course:
At Swiss Fashion Academy, we always value the success of our trainees.
At the end of the Fashion Illustrator training, each student must be able to:
Have general notions about the fashion industry, as well as trends, raw materials, terms used for the manufacture of the pieces;

You should recognize the importance of colorimetry as well as its basic notions;

Must be able to make illustrations through various artistic techniques of painting, collage, as well as through Drawing and Graphic Design Software (Adobe Photoshop and Adobe Illustrator);

Must be able to create and organize a work portfolio.
Prerequisites for enrollment in the Fashion Illustrator Course: 
Must be at least 16 years old

Interest in topics related to fashion, raw materials, market research, history and trends

Interest in developing a taste for design, aesthetic sense and manual skills
Theoretical content of the Fashion Illustrator Course: 
General knowledge about Fashion

Study of raw materials and patterns

General clothing concepts

Study of colors, Illustration techniques

Research on famous illustrators and their works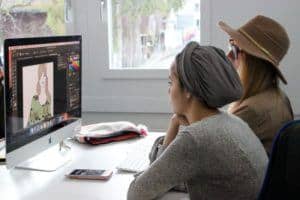 Practical content of the Fashion Illustrator Course: 
Design and proportions of the human body

Illustration of figures, emphasizing textures and materials

Artistic Techniques of Painting and Collage

Colorimetry – Knowledge of Color and Pigment

Knowledge of Design and Graphic Design Software (e.g. Adobe Photoshop and Illustrator)
Periodic evaluation and conclusion of the Fashion Illustrator Course:
During their journey in the training, students will be evaluated three times. In the first two evaluations, they will have to present the illustrations made during the classes and a portfolio organized with ideas and inspirations, so that they are then evaluated by the expert who will supervise the test.
In the final exam, with the same expert, the students must present an illustration that promotes a Stylist or a Fashion Designer, as well as their other creations. Along with this, they should also submit a 30 page written dossier, where they explain the whole process of developing their ideas, illustrations and creations, throughout their training.
Dates and Price of the Fashion Illustrator Course:
Swiss Fashion Academy will provide a list of the necessary and mandatory material for the Fashion Illustrator course. The material included in this list corresponds to an approximate value of CHF 5000, which includes: a laptop computer able to operate with the appropriate software to be studied in the training, all the painting and drawing materials necessary for the execution of the theoretical and practical exercises carried out both at school and at home.
Enjoy a number of benefits by enrolling in the Fashion Illustrator Course:
You're one step away from changing your future! Choose one of the following options:
The Swiss Fashion Academy team will be happy to welcome you to our premises for a visit or to clarify any doubts. We also offer you the opportunity to attend one of the classes of your choice, free of charge and without obligation, in order to get to know our teaching method and our facilities. This applies both to those who register in person and through our website.